Metaoups was established in April 2018, and since we started our operations, we have always relied on state-of-the-art technologies. With multidimensional experience on Salesforce.com, we deliver a diverse set of expertise to enable your business continued success.
---
Mission
To build simple , smart and scalable digital product & solutions
Vision
To Bring technologies to everyone's reach by simplifying it.
At Metaoups, we believe in giving back to the community
We have created an environment where our employees contribute to society through various initiatives. We choose initiatives where we can make the highest positive impact - education for children, technology for social causes.
Our engagement is not just about project milestones and performance metrics; for us, it is about making you successful in what you target to achieve. Unlike the global system integrators, our resources would be available beyond committed hours, do their best to ensure we meet the deliverables with top-notch quality. We believe in delivering beyond our commitments to make our customers succeed.
We have an obligation to bring the ideas to the conference rooms, discuss it, refine it, and that can only be done when we are transparent about what we do not know versus what we know best. Every team member within the organization at any level executes our core values: Equality, Learning, Customer first, and Innovation to ensure we are moving towards our vision. Our first customer is still with us, which says a lot about our work culture and delivery.
Salesforce Advisory and consulting
Salesforce Custom Implementation
Salesforce AppExchange Solution
Salesforce Data Migration Services
Salesforce Integration Service
Salesforce Managed Services
Our Unique Products
---
Salesforce Silver Partner

Recognition

Attained Salesforce Consulting Silver Partnership

Karnataka Startup

Recognition

Recognized by State Gov Startup Program

All India Startup

Recognition

What's better than getting recognized by Startup India Program

Pledge 1%

Social Responsibility

Pledge 1%, To give back to society

Early Review


Customer Success

Delivered Journey Projects and got 5/5 salesforce reviews

Salesforce Partnership

Part of Salesforce Ohana

Signed early Salesforce consulting partnership

Two techno-functionals came together to address salesforce technology implementation challenges.
Company road map with our history
---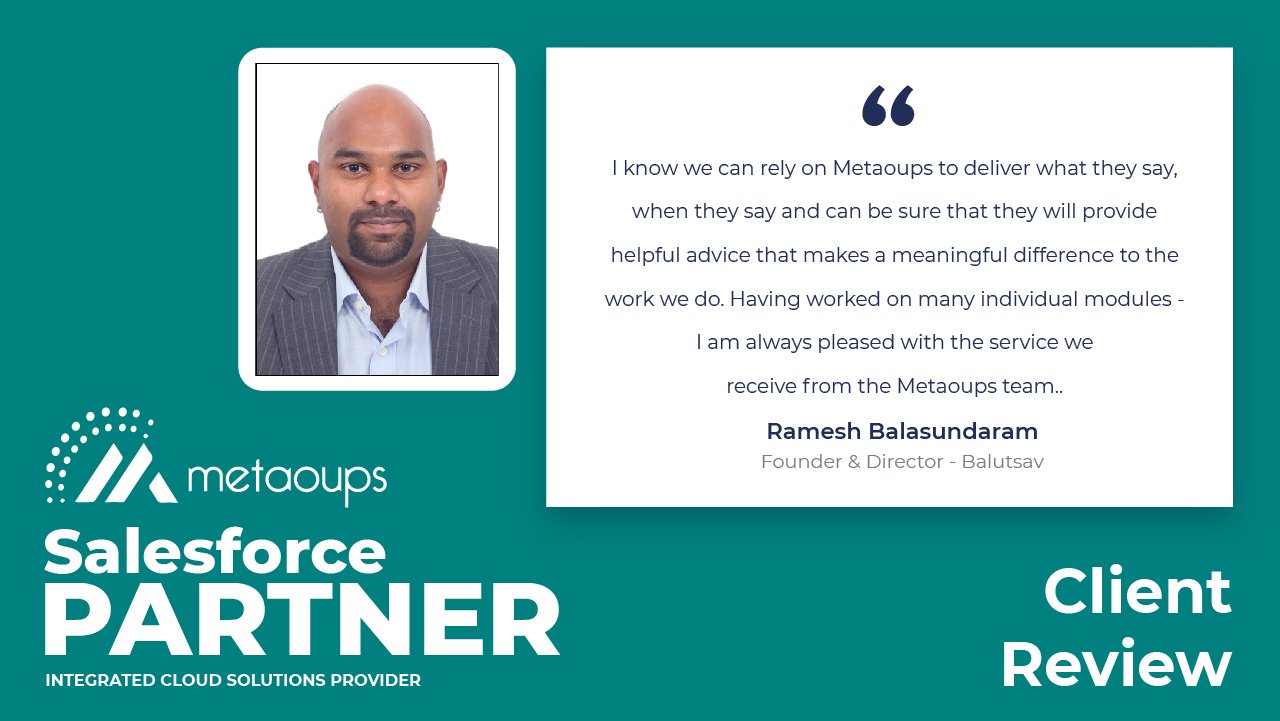 ---
---
A good team
We say we are. Always have been striving to go up the ladder to deliver better.
Meet Our Team
---
Contact us
No Reason to wait anymore. Click the below link and let's get on a call.
Connect Now
Contact with us now and receive a free quotation for your project
---
Our Team awaits to connect with you.
Feel Free, We Normally Cennect Within 24Hrs.
Write to Us: Sales@metaoups.com
+91 98864 42140 | +91 98732 05441