Salesforce is a cloud-based CRM solution that helps manage customer relationships. And maintaining customer relationships is the key to a successful business. Just selling the product or services is not enough, but having a loyal customer relation is very important, improving efficiency and productivity. And this is where Salesforce comes in.
In this article, we will learn how Salesforce helps the organization increase the sales and revenue of the organization and how Salesforce consulting partners increase the company's profitability.
What is Salesforce, and How does it work?
Undoubtedly, Salesforce is the best CRM. Salesforce can manage the entire organization from initial requests to data collection and automate all the company's tasks and save time. 
Salesforce is built to manage customers and retain them through fostering a good customer relationship by providing excellent services.
Salesforce implementation can optimize your sales process, boost productivity and help to increase the organization's sales performance.
The business goals that Salesforce helps us to achieve:
Connect with customers through their preferred channel of communication ( social media, chat & mobile phones)

Provide customer personalized services experience according to their concerns and complaints.

Delivers faster support services. 
How can Salesforce benefit the organization?
The ability to control interactions with leads and customers is the key advantage of Salesforce. In Salesforce, you can view interaction history with the customer, the service issues and many more.

Salesforce has a user-friendly interface, and it also allows customization according to the needs of the company.
Here are six reasons Salesforce Consultants in Ohio can take you to the next level
Suitable Customer Finding – Salesforce can help you to find the right customers. It provides a complete view of leads and maintains the record, regularly following up to target the prospecting leads, further resulting in increased sales.
Access to quality expertise – Decisions should be made analyzing strategies and ideas from an objective point of view. Salesforce consultants help to find what you are targeting is feasible to achieve or not.
Helps to fix your business problems – Salesforce consultants will research and explore plus points and weaknesses that can affect or help your business. Pointing out the weakness is the first step towards fixing it.
Improve productivity of employees – If your organization adapts the technology, your team will not need to do much paperwork. A Salesforce consultant can help you keep track of all previous records and help you deliver better results with better customer relations.
Improve Business Performance – By integrating the right technology, a business can get a good return on investment. A Salesforce consultant also provides a perfect solution to make adjustments in all business strategies.
Large product based support – A consultant will provide you with all the services regarding maintenance, updating and training.
Some important names in the range of Salesforce products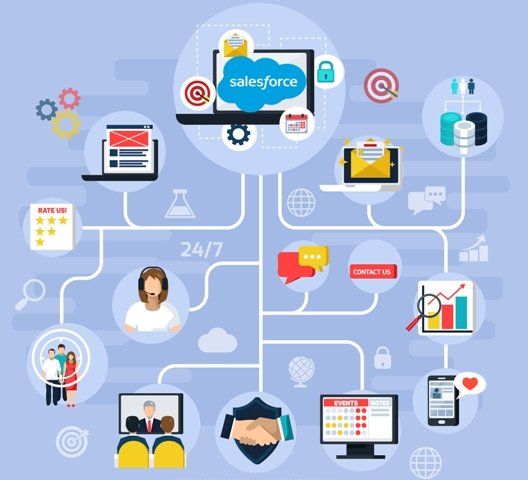 a) Community Cloud
Improve engagement by building communities for employees, partners or vendors.
b) Commerce Cloud
It helps to provide a great shopping experience.
c) Marketing Cloud
Integrates Marketing and Sales on a single platform
d) Service Cloud
Support customers from anywhere and have a seamless conversation.
e) Sales Cloud
It helps you to find more customers and close deals faster
Metaoups, the best Salesforce consulting partner in Ohio, helps you to streamline the process of transition to expand your business, resulting in improved sales and better customer loyalty. We also provide customized Salesforce solutions to suit your business needs. In addition, we identify gaps to improve performance and gradually rebuild the business with Salesforce.