Currently, customers are digitally empowered and expect a high level of personalized services, quicker response, and a better experience every time. Salesforce offers a robust platform and qualifies enterprises to engage with their customers across all media and channels and extend customer relationships.
Metaoups, Salesforce Consulting Partner, Salesforce CRM Implementation, integration, and consultant transform your businesses and connect customers, employees, and partners with proper streamlined systems.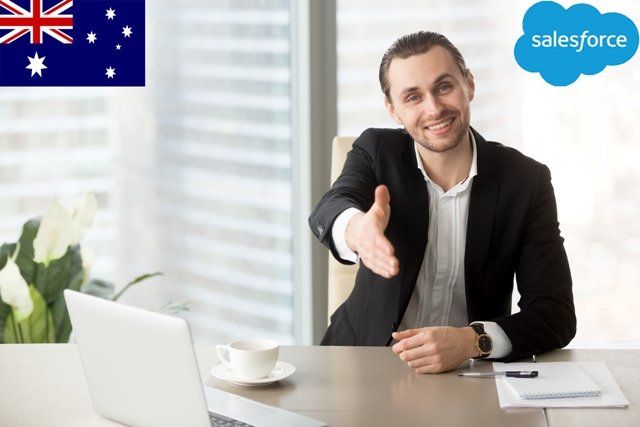 As a certified Salesforce consulting partner in Australia, we work with progressive enterprises with focused goals led by our Salesforce experts to identify certain stains and explore opportunities through Salesforce acceleration and innovation.
We are Salesforce consulting partners in Australia, offering result-oriented Salesforce solutions to help organizations meet their business needs and objectives. Metaoups provides expert Salesforce Consulting and implementation services in Australia. 
As a Silver Salesforce Implementation partner and one of the best Salesforce Partners in Australia, we work with you to drive enterprise-wide digital transformations 
Being one of the best Salesforce implementation partners in Australia, Metaoups has been helping to increase the efficiency of services, sales, and marketing activities. Metaoups is a top-notch Salesforce consultant that delivers full-cycle consulting services. 
As Australia's Salesforce partner, we offer Salesforce consulting in depth across all ranges of industries. 
Power your customer experience with unmatched Salesforce knowledge
We empower our clients to re-imagine how they engage and connect with the customers. Our main strategy is to drive digital transformation using the Salesforce platform. We define our customer journey to build strong brand loyalty, a better customer experience, and a personalized and effortless sales process. 
Currently, customers are digitally empowered and expect a high level of personalized services, quicker response, and a better experience every time. 
Salesforce
We will see how your business works and understand your Business Goals & visions, analyze your current implementation and suggest the areas of improvement by checking for underutilized features.
Pardot
Metaoups' Pardot solution takes you the extra mile with marketing automation. We will streamline it with your marketing and branding strategies. We help you to integrate Pardot with Salesforce. 
Marketing Cloud
We understand our client marketing goals and configure marketing clouds for immediate success. We start with the Marketing Automation engagements from a marketing mindset.
Configure Price Quote
Salesforce CPQ can accelerate profitability and growth through automated quoting, contracting, and billing processes. Metaoups helps manage and automate configuration, quoting, and pricing processes for products and services. Thus significantly reducing the amount of work in hand hours that Sales and Operations Teams would normally put in.
Commerce Cloud
We help you Inspire customers with personalized and unified shopping experiences across all digital e-commerce channels by integrating Salesforce Commerce Cloud. Metaoups helps your customers have highly personalized shopping experiences across all digital commerce channels.
Service Cloud
Metaoups will enable you to support your customers through all channels that Service Cloud supports. Metaoups' Service Cloud Consultants will set you up with pre-configured integrations and customize them for your support goals. 
Salesforce Development and Integration

 
Metaoups has extensive experience in Salesforce development, and we also develop bespoke Cloud-based Applications and Mobile Apps using both Native and Hybrid Technologies. We partner with you to build great products that help the End Users in achieving better productivity.
On-Demand Salesforce Support
By Anticipating support needs & requirements for our customers, we help them decide the Salesforce Managed Support models and then help with timely Administrative Tasks to Development & Bug Fixes, Data Management, and Migration to End User Training. 
Are you looking to hire Salesforce Consultant in Australia? Then look no further than Metaoups that delivers technical and consulting expertise in the form of Salesforce Consultancy Services, Marketing Automation, Cloud Solutions, and many more. Being the best Salesforce Consulting Partner in Australia, Metaoups assists you in maximizing your business potential by providing the business with various Salesforce Solutions. 
Metaoups has helped many businesses with the best Salesforce consulting services. Our expert team of Salesforce consultants in NSW has helped businesses increase their revenue by building workflows to automate sales, operational, and marketing tasks that reduce manual efforts. We can help your business with some of the best practices in effective Salesforce strategy. We are one of the best Salesforce Companies in NSW. Our specialization includes Salesforce Service Cloud, Sales Cloud CRM, Pardot, CPQ, Commerce Cloud, Marketing Cloud, Field Service Lightning, On-Demand Support, and Managed Services. 
Our Salesforce consulting services in NSW will help you choose the right Salesforce product and version as per your requirements. We also help companies strategize how to implement Salesforce products successfully into their business processes. If you are already using Salesforce CRM, we, as Salesforce Consulting Partners in Texas, will help you adopt and make a better ROI by providing the right consultation around best practices and industry trends.
Metaoups is a Salesforce Silver Consulting Partner and is considered one of the best and the top Salesforce Development Companies in Australia, the USA, and India, focusing on high-quality and scalable solutions for business problems. 
 Power your customer experience with unmatched Salesforce Knowledge
Also read,